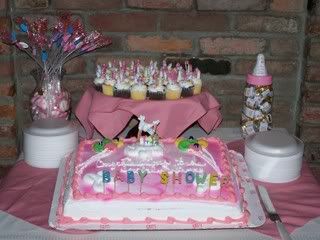 I survived the estrogen overload festival otherwise known as Gestational Countessa's baby shower. It was not nearly as bad as I was expecting it to be. It was hosted by my Mother who was very smart and had us all gather at a local restaurant.
My Mother and I arrived early to set the place up and BS and Sous-Chef Mermaid were not too far behind. Of course our favors were a hit, anything hand made usually is. BS and I were going to play a drinking game during the event. The premise was anytime any of the guests tried to retrieve chocolate from the favor, we'd have to take a shot. Unfortunately, I did not have enough in my flask to cover the event and we really did not witness anyone trying to destroy our work.
GC's friends jumped into action during the gift reveal, so not only did I not have to write down every detail of who gave what, I also was able to avoid the dreaded ooooooos and ahhhhhhhhhs.
I am more than a little excited to meet my new niece. Hopefully she won't show up on time as I have a date with Billy Joel in Raleigh. Smelly, if you are tuning in, either come early or at least 2 days late.
Love and Kisses - Aunt Wicked