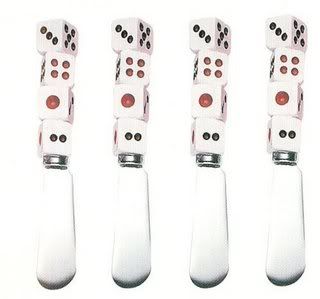 Mama's lock up your sons. The Bunco Squad is headed out for a weekend of SPAing, drinking, lounging and after all that will surely come carousing. Am I right Ladies???
It is a very tight knit group these Bunco playing Babes. They all have mcmansions and coincidentally all reside in Brain Surgeon's neighborhood. I have met a scant few of them and they do not disappoint. I am proud to be allowed into the traveling escapades of this sisterhood.
I really hope they don't whip out the dice and start exchanging recipes because if that is the case, I will surely be a fish out of water. If the e-mail exchanges are any indication, nobody is bringing any dice. It was requested by more than one of them that I bring the ole martini back pack and a couple of appetizers. Others are bringing numerous bottles of wine, red and white, beer, champagne and a few concoctions I have never heard of but am anxious to try out.
So if you will excuse me, I need to figure out what clothes to bring along for the times we are not lounging around in fluffy white robes sipping lemon water and relaxing. Also, I need to start my liver exercises so that I can try and delay what surely will become cirrhosed soon enough.
Off to the mountains where I will surround myself with mood lighting, the sound of trickling water, soothing lotions and potions to purify and de-age skin and assuagement.
Try not to miss me, too much.