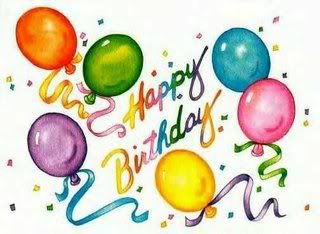 I am not creative enough to come up with a witty and pithy post about my two siblings' birthday. Instead I will ask that you all join me in wishing them a very Happy Birthday.
Today is Brain Surgeon's Birthday, my older sister. If someone had told me back when I was in my teens, during the time that she and I just did not get along, that we would develop a very strong friendship that no bond could break. I would not have believed them. I am so blessed to have her in my life in the many facets she represents for me and the rest of her family and many of her friends. Happy Birthday to you Brain Surgeon!!!!!
Also today, we must celebrate my adopted Big Brother's birthday. Please join me in wishing Monty a.k.a. The CEO a very Happy Birthday. Monty has been a part of my life now for a few years and it is hard to describe the bond we have especially since we have not met in person. Believe me when I tell you it is strong and most important and valuable.
Happy birthday to both my siblings, Brain Surgeon and Monty. I wish you happiness today and ALL days!