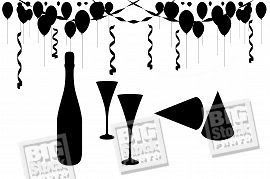 So long, farewell, auf wiedersehen , goodbye to 2006. All in all not a bad year. Typical really with the normal personal trials and tribulations. The world is not a better place than previous years, we'll see what 2007 brings. I am hopeful that the state of world affairs won't get worse.
I don't make resolutions. Rather I try to use my powers for good and not evil. My wickedness appears if warranted, but maybe less in the coming year. No promises.
Whatever you do to ring in the new year do it safely. Here's wishing you more happiness than all my words can tell, not just alone for New Years Eve but for all the year as well.
Adieu, adieu. To you and you and you. See you in 2007.