Kindly address my niece as Mademoiselle Ambassador from this point forward. While you are at it, wish her a Happy 13th Birthday.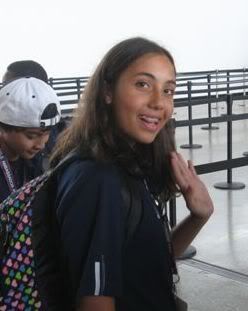 Let me explain. Ambassador Lil Wicked is currently across the globe representing the US of A in New Zealand, then Australia with Fiji bringing up the end of the journey. Someone anonymously nominated her to serve in the
People to People Program
. Go ahead read all about it, I'll wait.
Pretty impressive, right? I have to say that without this stint as an Ambassador, the kid is pretty formidable. I know I am her Aunt, but I am pretty sure you'd agree. It was my great honor to be present at the airport this past Saturday to send her off on the first leg of her jaunt. I also was there to keep her parental units from embarrassing her any further than they already do. (Oh Hi Brain Surgeon and BIL#1) Fortunately, if there were any tears shed they were done in private.
Happy Birthday Mademoiselle Lil Wicked. Bon Voyage. Make many memories. Don't end up in any foreign prisons.
I think I covered them all. Oh, also try to text your father in more than only three words. He is having a bit of anxiety.
Hugs and Kisses
Aunt Wicked