I use the term photographer very loosely. I am sure that you have been trained in some capacity to arrange a multi-generational family in order to snap a few photos. Although, after our session today, perhaps you are a product of the employment down turn and this is your interim job.
In case you missed the training or it was above or beneath you, I am going to give you a few pointers. Like it or not, you are in a Customer Service business. Would it have killed you to demonstrate of modicum of pleasantness? Your constant scowl was more than a little off putting. Our family consists of three generations ranging in age from 2 through 84. Asking my parents to straddle a coupe of pieces of styrofoam was crossing the line. Luckily Maternal Countessa did not allow them to even attempt the pose. After that, things went downhill.
It is no wonder that the pictures you presented us with were less than par. There were 9 of us in the portrait. Between you asking me to kneel in a very uncomfortable and awkward position and then asking us to wave frantically at some sensor above our heads to get your flash to work, it was quite difficult to agree upon any pictures. To be honest, I only agreed to the one so that our ordeal could end quicker.
This picture far outshines the one we purchased: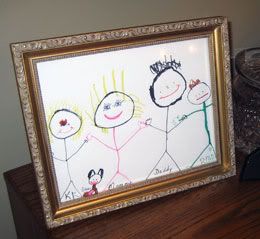 I wonder who took their photo?
Maybe next year we will do more research and find a photographer that will a) actually enjoy their work and b) their enjoyment will rub off on us.
Love and Kisses - Wicked