02/08/10: We are now expecting an additional 5 - 12inches of snow on top of this. My liver is ready for the continuation fo the game, my arms and back not ready for more shoveling. Drink up party people.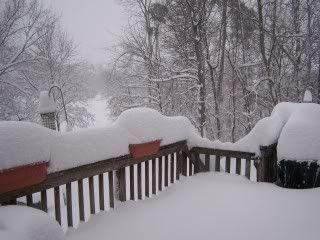 A majority of the East Coast is expecting record breaking snow starting today and all day Saturday. I am a snow lover right up until I have to begin the process of digging out. Oh well, I must take the good with the bad.
They are forecasting two feet of the white stuff, impressive. I decided I can handle this situation one of two ways. I can panic like the rest of the population and drain the stores of all supplies and wring my hands endlessly. I have decided to go another route, since my home is sufficiently stocked, I own a shovel and most importantly the liquor cabinet is always at full inventory. Therefore, I am going to start a drinking game, I will take a shot for each inch of snow that falls.
By the end of the storm, I won't care how much shoveling there is ahead of me.
Drink and dig out safely – Cheers!