In honor of Earth Day/Week, I have adopted a new pet. Rather, the pet has adopted my abode.
Now I will have you know that the old Wicked's instinct would have been to swat at the critter and scream like a girl. Possibly breaking a hip while hurling myself down the front steps. I'll have you know that the new, improved Wicked has become more nature friendly.
Behold, the beauty that has taken residence on my porch light.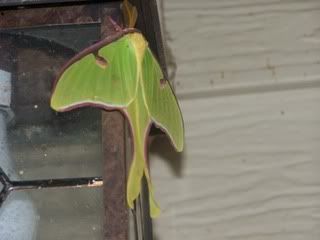 Your mission, should you choose to accept, is to name that moth.
Ready. Go!